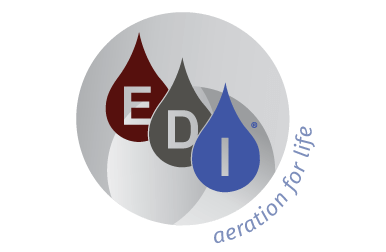 Environmental Dynamics International
Environmental Dynamics International (EDI) specializes in the development and application of advanced technology aeration and biological treatment solutions for municipal and industrial wastewater. With its vast experience in supporting the aeration demands of many biological processes, EDI offers diffusers and complete advanced solutions for all types of biological reactors, including lagoons.
Fine Bubble System
Fine bubble diffuser systems are a key component in controlling operational economics of a wastewater treatment plant. EDI's fine bubble diffuser platforms offer maximum performance and application flexibility for system optimization.
---
Watch Video
Coarse Bubble System
Coarse bubble diffuser systems offer moderate oxygen transfer efficiency and low maintenance with maximum mixing. EDI's full spectrum of coarse bubble diffuser platforms provide advances in mechanical reliability, application flexibility, and ease of installation and maintenance.
---
Watch Video
System Configurations
Each EDI diffuser platform is available with the appropriate system configuration for optimized functionality. System options are available for superior energy savings, process performance, improved system reliability, ease of installation and maintenance, and service life.
---
Watch Video