GA Industries 5000 Series Control Valves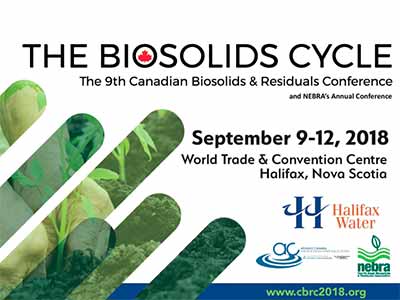 We are excited to bring the biennial Canadian Biosolids and Residuals Conference to Halifax in September! This year, Northeastern USA will be joining us, Welcome NEBRA! Excellent technical sessions from nutrient recovery, residuals management, research and science, soil health and learn about successful biosolids and residuals (fly ash, lime, compost, paper sludge, and many others!) programs, etc. There are CEU's available. Come join Industry, Municipalities, Government, Universities, Laboratories, Residual Management companies, Mining, Power energy, Pulp and Paper, Agriculture and More! Plus enjoy the fantastic social events (included in your registration!).
Register by July 1st & your registration might be free!

"The premier event for biosolids & residuals in Canada & northeastern U. S."
"Imbibe the knowledge.  Replenish the passion.  Learn from each other."
July 1 early-bird discount & free registration raffle entry. Details.
What you need to know:
Halifax Water, ACWWA, & NEBRA welcome you to the best biosolids conference of the decade – including all that gracious Halifax has to offer! This international conference is in the brand new World Trade and Convention Center near the harbor, downtown – a world-renowned destination. And "Halifax is at its best in September. And what's not to like about local seafood (lobster!)?"  And it's affordable!   (U. S. attendees – enjoy the Canadian dollar discount.)
Registration: Meals & 2 evening networking events included!  Early-bird discount. Drawing for free registration.
Hotel Options: The hospitality Halifax is known for.
Call for Abstracts:  We need your expertise!  Deadline: February 28th.
Sponsorships: Hurry!  More than half the opportunities are already booked!
Exhibits / Trade Show:  Pick your spot: first-come, first served. Includes one full registration.
Networking events: Three evenings of the best Halifax has to offer – including a tall ship harbor cruise, a brewery feast, & a speakeasy
Student rates & prizes:  $750 1st prize for winning student presentation. Student discount (& first 10 students free!)
Tour: Includes Tuesday evening networking event, facilities tour & BBQ pig roast lunch (& veggie option) at a farm growing with biosolids – for just $60!
You won't want to miss this!  (And it's going to sell fast.)
"The premier event for biosolids & residuals in Canada & northeastern U. S."  Register & book your travel now!