Prominent PROSIP Chem Skid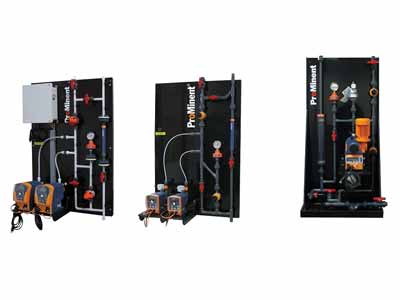 ATTENTION CHEM FEED SYSTEM USERS:
Are you tired of leaking chemicals in your treatment plants or chemical rooms? Prominent has produced the PROSIP wall mounted chemical skid with a 3 year leak free warranty. The skids are available in simplex and duplex configuration and can be supplied with or without the pumps. Your current GALA, DELTA and SIGMA pumps can be mounted on the new PROSIP. the skid is complete with calibration column, backpressure and pressure relief valves, isolation valves and pressure gauge and isolator. The pre-piped system is pre-assembled on a wall mounted backboard and piped with schedule 80 PVC. All isolation valves, BP valves and PRV's are true union connections for easy maintenance. The skids are available in materials suitable for the following chemicals:
Sodium Hypochlorite
Sodium Hydroxide
Hydrochloric Acid
Citric Acid
Alum
CIP and cleaning chemicals (foamers, sanitizers, enzymes)
The skids are also available with optional junction boxes and flow monitors factory installed and wired plus they are available for immediate shipping from stock in Canada.
Put your faith in a Prominent skid, you won't be sorry. Don't risk ending up with a skid that has not been factory assembled and tested, with the PROSIP system you have a skid that has been built by the leaders in the chemical feed industry worldwide, Prominent Fluid Controls and has been certified leak free from the factory for 3 years. Sansom Equipment not only sell the skid to you but provide parts, service and training for years to come. Contact us today.