Sansom and E/One Webinar Series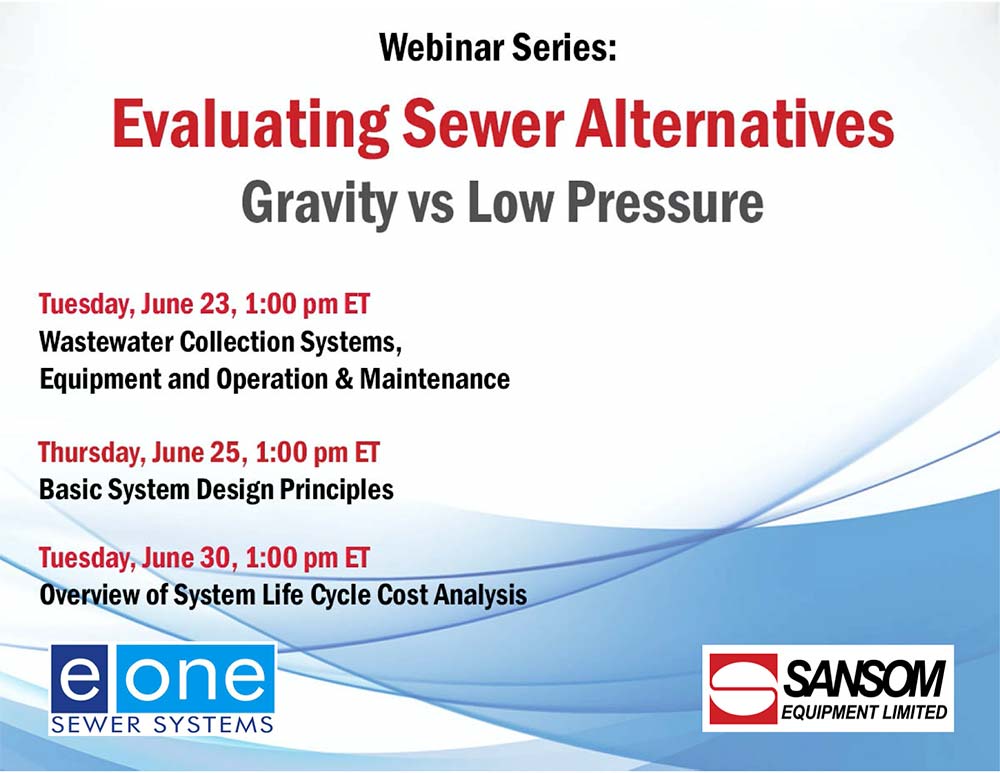 E/One and Sansom Equipment Company are pleased to present a three-part webinar series that will provide a comparative overview of pressure and gravity sewers.
Evaluating Sewer Alternatives: Gravity vs Low Pressure
Pressure sewer systems are gaining widespread acceptance in providing a viable, sustainable, and cost-effective solution for communities considering new wastewater collection systems, replacing failed gravity systems, or for septic-to-sewer conversions. They provide critical infrastructure with lower construction costs, fewer community disruptions, and minimal environmental impacts compared to the construction of new gravity sewer or the renewal of failed gravity systems.
Discussions in the first two sessions will include an overview of wastewater collection systems; system equipment and components; operation & maintenance; and basic pressure sewer system design principles.
The third session will explore the concept of a Triple Bottom Line approach to implementing infrastructure projects. The discussion will include an overview of a life cycle cost analysis and the benefits of a structured life cycle cost analysis model to assist in the evaluation wastewater collection system options.
All webinars will begin at 1:00 pm ET.
Tuesday, June 23
Wastewater Collection Systems, Equipment and Operations & Maintenance
Thursday, June 25
Basic System Design Principles
Tuesday, June 30
Overview of System Life Cycle Cost Analysis
A certificate of completion and the presentation slides will be available for download upon successful completion of each webinar.