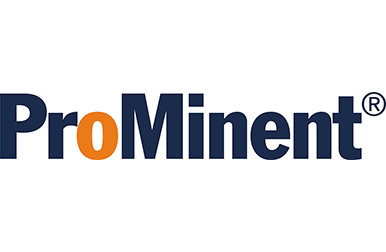 Prominent
Fluid metering technology is ProMinent's particular specialty and it is perfectly complemented by water treatment and water disinfection products. Whether individual or system solutions, ProMinent's modular program offers maximum flexibility and cost-effectiveness for every customer.
Metering Pumps
ProMinent has boasted the world's largest range of metering pumps for over 50 years. These are used wherever liquids have to be added to a medium in a defined volume within a defined period of time.
---
Pump Guide
Process Metering Pumps
The best solution for production processes in the petrochemical and oil and gas industries involving risk: process metering pumps from ProMinent.
---
Pump Guide
Peristaltic Pumps
With a simple functional principle, safe operation and a huge range of applications, ProMinent peristaltic pumps DULCO®flex are universal solutions.
---
Pump Guide
Chemical Transfer Pumps
ProMinent chemical transfer pumps deliver efficient chemical transfer, transporting liquids from one container into another.
---
Pump Guide
Disinfection Systems and Oxidation Systems
Need hygienic, pure water? Stay ahead of the game with ProMinent® Smart Disinfection: Low impact. Less cost. High efficiency. Everything you need – from a single source.
---
Download Catalogue
Metering Systems
ProMinent metering systems come fully ready mounted and are ready for immediate use. Sensors, controllers and metering pump form a single unit for minimal installation complexity.
---
Download Catalogue
Measuring, Control and Sensor Technology
Optimum metering depends on exact measured values. That's the reason for measuring, control and sensor technology from ProMinent.
---
Download Catalogue
Tanks
Chemicals and tank form an inseparable pair. ProMinent manufactures and supplies suitable tanks for the storage and transfer of chemicals in accordance with legal requirements.
---
Download Catalogue
Domestic Water Technology
Corrosion and limescale deposits don't do anyone any good. That's the reason for ProMinent domestic water technology, with its flow-proportional metering units.
---
Download Catalogue