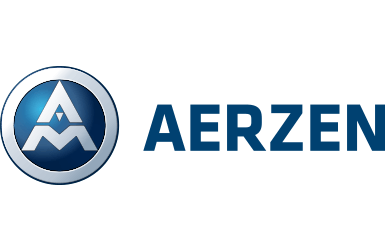 Aerzen
Aerzen quite possibly offers the widest range of products in the field of compression technology that you will find anywhere. Their highly-developed machines are available in a wide range of designs, sizes and special models; designed to convey air, oxygen, neutral, aggressive or toxic gases; for vertical or horizontal flow; to handle negative pressure, positive pressure or vacuum modes. They can be used anywhere in the world where gas needs to be conveyed and compressed, and where reliable availability, energy efficiency and an oil-free supply are deciding factors.
Positive Displacement Blowers
Positive displacement blowers find their key area of application in the pneumatic transport of bulk goods and waste water treatment. AERZEN offers right-sized solutions in this sector, delivering high-performance blowers in our standard, compact and special classes, right-sized to the most diverse applications and individual customer requirements. Always the best choice. As powerful as they are economical.
---
Download Brochure
Screw Compressors
There are effectively no limits to potential applications for AERZEN screw compressors. They can serve to create pressure for the pneumatic transport of powders, bulk goods or ash; they aerate sewage tanks, keep lakes and harbours clear of ice, supply oxidising air for power plants or start jets for aircraft turbines.
---
Download Brochure
Rotary Lobe Compressors
One of the most innovative solutions in compressor technology today, and far and away one of the most efficient machines in the vast 25 to 100% control range. Delta Hybrid has long been the only assembly in the world to bring together the capabilities of blower and compressor technology into one single system, opening up new possibilities for creating positive and negative pressure and savings of up to 15%.
---
Download Brochure
Turbo Blowers
AERZEN Turbo Blowers are developed to cope with large intake volume flow rates but speed-controlled, 100% oil-free, and designed for use in the most demanding areas of industrial and municipal wastewater treatment and many other fields of application.
---
Download Brochure