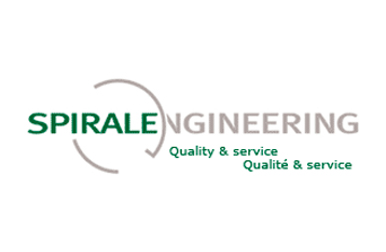 SPIRALENGINEERING
SPIRALENGINEERING specializes in spiral screw handling equipment. They design, manufacture and install specialized equipment like spiral screw conveyors, compactors and sand separators, and manufacture all types of shaftless screws.
Shaftless Spiral Conveyor
Shaftless spiral conveyor are the best way to transport sticky and sludgy materials. Versatile and economical, they are simple and trouble-free.
---
Download Brochure
Shafted Spiral Conveyor
Shafted spiral conveyors are very economical when it comes to transport bulk materials. Highly reliable and long lasting, this old principle has lasted through time.
---
Download Brochure
Spiral Press
The spiral press is used to compact and dewater material while conveying. A shafted or shaftless spiral applies pressure and water can be drained.
---
Download Brochure
Compactor
The spiral compactors use a shafted screw to apply strong pressure to materials reducing weight and DS content without crushing.
---
Download Brochure
Mixers and Agitators
Mixers and agitators are used to mix or homogenize a continuous flow of bulk material in a rapid, thorough yet gentle action of spirals.
---
Download Brochure
Sand Separators
The Spiral Grit/Sand Separator is designed to collect grit or other types of heavier sediment particles and separate them from water and organic material.
---
Download Brochure
Replacement Spirals 

Over the past years, SPIRALENGINEERING has refined and optimized the manufacturing processes for its spirals. We are now manufacturing ourselves screws of virtually all sizes and steel type.
---
Download Brochure
Replacement Parts
Various replacement parts for conveyors and spiral-related equipment. The high quality and precision parts are manufactured according to the characteristics of the equipment it's made for, specifically to the needs of our clients.
---
Download Brochure